Jan Steen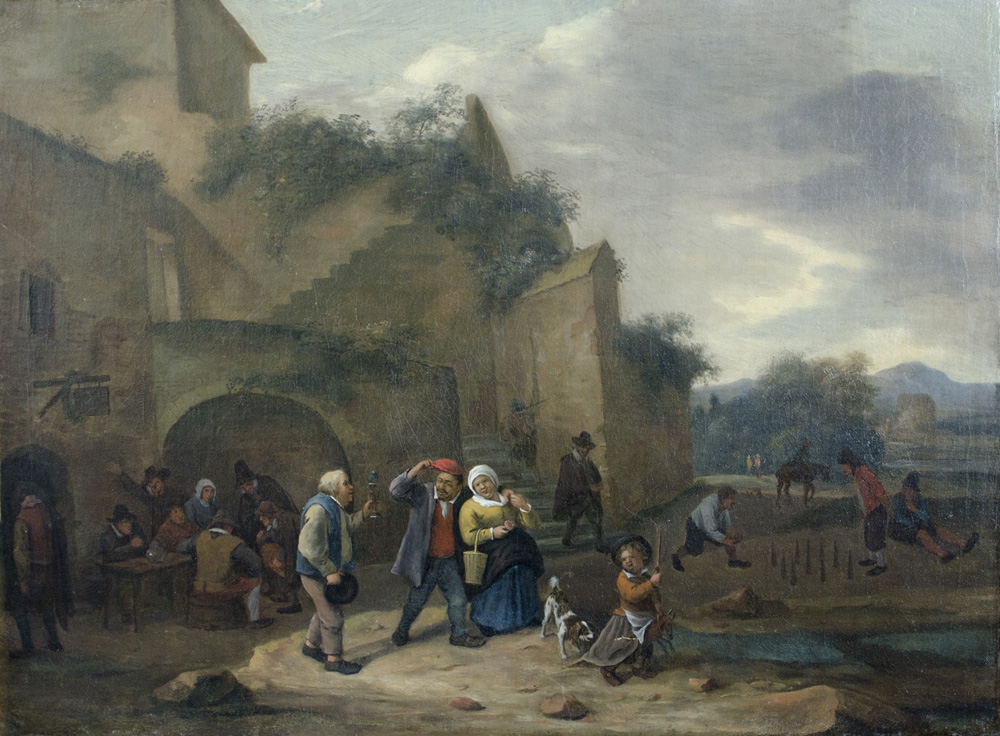 1623-1979
Figures and a Child Playing
Oil on canvas
17" x 23" | 42,5x57,5 cm
Signed with monogram at the lower left. Provenance: From collection E. Harzen. Hamburg. bequeathed to the Kunsthalle. Hamburg before 1887 (Inv. #171); anonymous sale. Brussels. Galerie George Giroux. 11 March 1929 (lot #86); with L. Bock. Hamburg by 1930; Fritz Von Holtz. Stichting Nederlandisch Kunstbezit. Amsterdam; (the prior two listings according to a label on the reverse); with Borghouts. Utrecht. 1958; with Abels. Cologne. 1972; anonymous sale. London. Christie's 11 April 1975 (lot#12).
Exhibited Kulturkreis Schloss Raesfeld e.V.. Niederlandische Gemalde des 17 Jahrhunderts. 11-31 May 1961. catalogue #38 (according to a label on the reverse).
Recorded en C. Hofstede de Groot. A Catalogue Raisonne... Esslingen. Paris. 1907. Volume I. pag. 152. #627; Karl Braun. Alle Tot Nu Toe Pekende Schilderigen von Jan Steen. Rotterdam 1980. pag. 172. #P165. reprod. pag. 173.
Steen was born in Leiden circa 1623, Like his even more famous contemporary Rembrandt van Rij, Jan Steen attended the Latin school and became a student in Leiden. He received his painterly education from Nicolaes Knupfer (1603–1660), a German painter of historical and figurative scenes in Utrecht. Influences of Knupfer can be found in Steen's use of composition and colour. Other sources of inspiration were Adriaen van Ostade and Isaak van Ostade and painters of rural scenes, who lived in Haarlem. Whether Steen actually studied with Ostade is not known. In 1648 Jan Steen and Gabriel Metsu founded the painters Guild of Saint Luke at Leiden. Soon after he became an assistant to the renowned landscape painter Jan van Goyen and moved into his house on the Bierkade in The Hague.